If Kaunt doesn't process an invoice, there can be a number of potential reasons why. To process an invoice, Kaunt needs to be able to find a pattern. If this is not possible and Kaunt isn't sure where to book the invoice, Kaunt doesn't process it. 
If it's possible–or there is a potential–for the invoice to be processed, but it hasn't been processed, this can be because of your organization's settings. If you want to see the specific reasons for this go to your dashboard, where you can get an overview. 
View this video for a more detailed explanation on how to find a reason based on specific invoices.
If you click on individual causes you are provided with a detailed explanation along with a guide on how to change or optimize your settings in order for Kaunt to process. You'll also get a list of specific invoices not processed for this reason.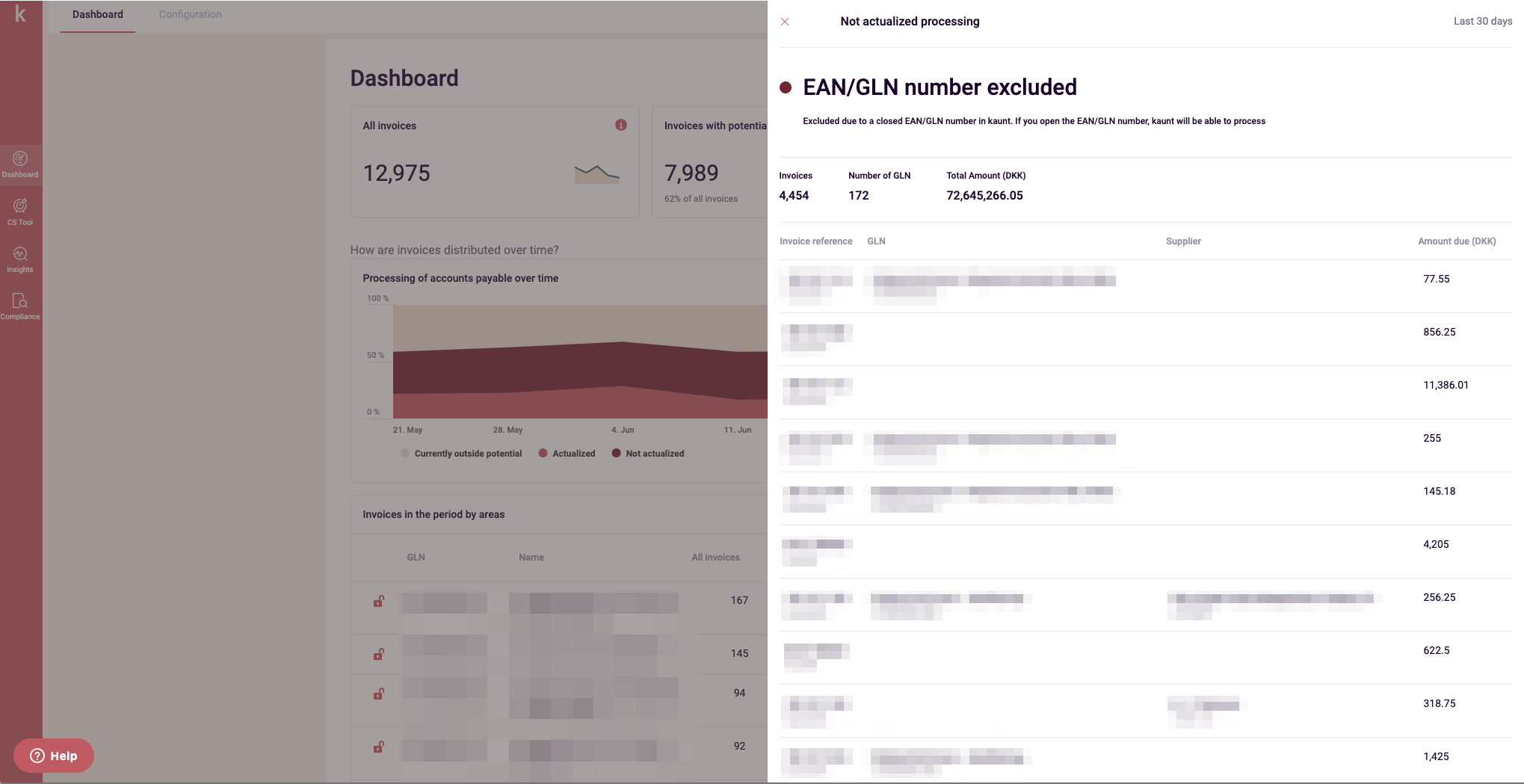 When Kaunt finds potential, but the invoice is not processed, this is due to Kaunt not being allowed to or not having access to process. It's important that you check your settings and make sure that you have given Kaunt access to process. The lack of access reasons are often quite simple to correct. They might require you to open a GLN-number; close payment plans and let Kaunt process; or make sure the invoice isn't manually processed within the first 24 hours of receiving it. If so, Kaunt doesn't have a chance to process before an employee has manually done so.
Another example of an error, is if Kaunt isn't able to find the invoice in the inbox. In order to solve this, it might be helpful to look through one or several of the invoices affected and learn how they are being processed in your financial system. 
One of the few areas where you cannot change the settings is where an invoice is chosen for sample testing. Kaunt sample tests around 5% of all invoices with potential, and leaves those to be manually processed. For this reason, you cannot change the settings for these specific invoices. 
The "not possible" invoices
A group of invoices might end up in the "not possible" category. This category represents the invoices where Kaunt doesn't find a pattern, and therefore is unable to process them. Kaunt finds a pattern based on your historical recording. You can learn more about this here.
If you want to optimize invoice processing within this category, it's important that you are consistent with your bookings. You can learn more and get advice on how to optimize your accounting processes here.
The information on each invoice is really importance. For example, if two invoices are similar in information Kaunt scans, but are manually booked on two different accounts, Kaunt isn't able to find a pattern and doesn't process either. Besides being consistent in general, it's important to be aware of the information on each invoice and make sure that the supplier adds their correct information.